Important Aspects of our Product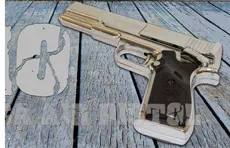 Classic Metal Body
Complete Alloy Metal Built, Rust proof and Rigid 0.177 4.5mm Gun
18 Round's BB Chamber
Hassle-free onetime Load, Just Cork the Gun and Fire BBs or Pellets
Weighs like Real
Gun weighs 810 Gms, Very much like Real Service Gun, 0.177 Caliber
Functional Safety Switch
Extra added Safety and Easy Access when Loaded with bbs and Pellets
Who We Are
Official Associate
We are the official Associate for Blanca Air Pistol in the country. Place a order and rest assured of the delivery. 10+ Years of History.
Portable / Handy
The market is Flooded with air guns. None come close to the real life Experience. Blanca Air Pistol offeres your real life experiene, as if you are holding a real Gun.
Repair and Replace
The entire product is made of Rust Proof metal alloy. Usually there is no defect. In case there is any problem we will fix it for free under warranty.
Variety and Choices
Since we are the official distributors for Blanca Air Pistol, we offer all the products available on the platter. All the products are in stock and ready to ship.
Some Small Stories..
Life Saver.... Prevention is better than Cure

Threatened by someone, Traveling an alone a lot of time, Businessman sitting at the cash counter, or anything that makes you scared. The answer to these issues is Blanca Air Pistol . You can carry it anywhere, No license needed. It can be used to deter the threat.
Easy to carry

Portability is a serious concern, You do not want to end up carrying one of those long barrel air guns that do not fit in your bag or pocket. And not to mention that they look fake. Blanca, on the other hand, is not just portable but also looks like the real thing. Keeping one on the desk gives the feeling of a real gun.
Price: Rs 5790/-

| Specifications / Features | Details |
| --- | --- |
| | |
| Body | Full Metal Construction |
| Internal Pistol | Brass Make |
| Handle Grip | Metal |
| Mechanism | Double Spring Action |
| Weight | 800 Gms |
| BB Hold Capacity | 18 BBs |
| Range(LOS) | 6 Metres |
| Included | 200 BBs and 50 Pellets |
| Barrel Length | 1.2 Inches |
| Caliber | 0.177 |
| OnSite Warranty | One Week |
| Carry in Warranty | 6 Months |
| Warranty Type | Manufacturer |
| GUN Documents | Shipped with Gun |
| Lisense Required | No |
| Viewfinder | Open Sight |