Blanca Black Air Pistol Features/Specification
Price: Rs 5790/-

| Specifications / Features | Details |
| --- | --- |
| | |
| Body | Full Metal Construction |
| Internal Pistol | Brass Make |
| Handle Grip | Metal |
| Mechanism | Double Spring Action |
| Weight | 800 Gms |
| BB Hold Capacity | 18 BBs |
| Range(LOS) | 6 Metres |
| Included | 200 BBs and 50 Pellets |
| Barrel Length | 1.2 Inches |
| Caliber | 0.177 |
| OnSite Warranty | One Week |
| Carry in Warranty | 6 Months |
| Warranty Type | Manufacturer |
| GUN Documents | Shipped with Gun |
| Lisense Required | No |
| Viewfinder | Open Sight |
Thank you for checking the specifications, below is a detailed explanation of the information mentioned above.
Blanca is a 0.177 caliber gun, what does that mean for you. The barrel diameter of the gun determines this value. These numbers are using the imperial system of measuring the bore diameter. What is it you ask? Inches. So a 0.177 caliber gun in simplified terms is a 4.5mm barrel inner diameter.
The gun itself has a lot to offer! But that's not it. You get a decent amount of consumables with the gun. Total of 200 Bb's and 50 Pellets. You also get a warranty card and instruction manual with the gun.
How to cork Blanca Air Pistol?
The Air Pistol works on the Pull-Push mechanism.
1)You need to unlock the gun by pushing down the slide lock. The moment you push it down the top slider is released and ready for operation.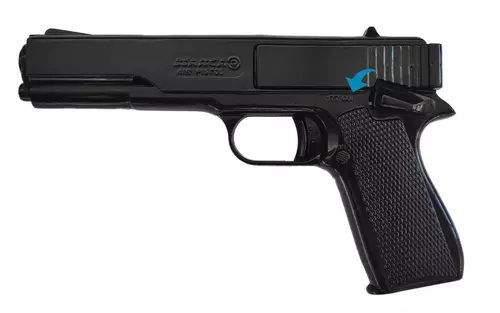 2)You need to pull the slider back till you hear a locking sound. This click ensures that the gun is completely pulled back.
3)Now is the time to push the slider forward till you hear the click again. Now the gun is corked and ready to fire.
How to load BB's in Blanca Air Pistol?
Please note that BB's can only be added when the gun is Corked. Press the front barrel at an angle. This will open the Bb's chamber. You can load up to 18 Bb's at one go.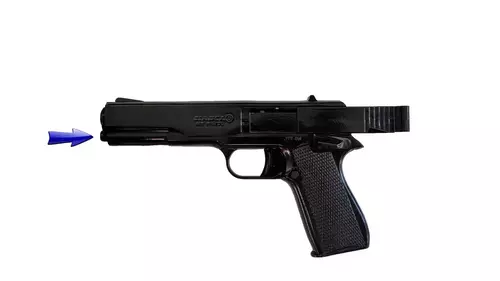 Pellets are loaded directly into the barrel. Only one at a time.
Blanca Air Pistol is 0.177 Caliber gun. This is the maximum caliber gun a individual can hold without applying for a license. You do not need any license for this product.
This Air Guns are made completely out of metal and can not be differentiated from a real gun on an X-Ray machine. This entire consignment is shipped through our special courier partner to get this product delivered to you.
This model is sold with 6 months Manufacturers warranty. Any problem with the product will be taken care of by the manufacturer. You need to ship the product to the manufacturer. The repairing cost and the return shipping cost will be at the manufacturer's expense.
These products are maintenance-free and do not require any servicing. All you need to do it use lubrication oil before use. In case there is a problem do not attempt to open the product if under warranty. If your product is out of warranty you can still ship the product for repair. you will be charged for the parts plus return shipping.